I am OK

This article is OK, but needs a fair bit of expanding according to NSW Trains Wiki's page rating scale.
I am copied directly from Wikipedia

You can help by rewriting me!
Xplorer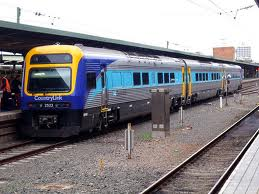 NSW TrainLink Xplorer
Details

Years built

Unknown

Builder

Unknown

Number Produced

Unknown

Years in Operation

Unknown

Fleet Numbers

EA 2501-2508, EB 2511-2517, EC 2521-2528

Unknown

Type of Train

Unknown

Number Operational

Unknown

Number Preserved

Unknown

Number Scrapped

Unknown

Fuel

Unknown

Gauge

Unknown
V - E - T - D

The Xplorer is a Diesel Multiple Unit train used on country passenger rail services in New South Wales, Australia, and to Canberra in the Australian Capital Territory. It is one of two types of passenger rollingstock used by NSW TrainLink, the government owned operator of country trains (the other type being the XPT). The Xplorer trains entered service in 1993, and are externally and mechanically identical to Sydney Trains's Endeavour railcars. All 23 carriages were built by ABB Transportation (now Bombardier Transportation) in Dandenong, Victoria, Australia.The Xplorer railcars are a predecessor of the V/Line Vlocity railcars, in Victoria.
Service
These trains travel on four NSW TrainLink daytime routes, two of which are daily and two of which are weekly. They operate from Sydney to the destination during the day, either returning on the same day or the next day. The following destinations from Sydney are the Xplorer's destinations:
Canberra -via Goulburn, 2-3 services each way per day. Normally a 3 car long Xplorer service, under certain circumstances the train will be 4 cars long.
Armidale and Moree -via Werris Creek. This is usually a five car set that divides at Werris Creek, 2 cars proceeding to Moree via Narrabri and 3 cars proceeding to Armidale via Tamworth daily. Sometimes this has been extended to a seven car set with 4 proceeding to Armidale and 3 proceeding to Moree or with merely 4 cars proceeding to Armidale or 3 cars proceeding to Moree with the normal number of cars retained for the other destination
Griffith -via Goulburn and Junee. This train divides from the Canberra Xplorer service at Goulburn on Saturdays only, and heads to Griffith via the Main Southern railway line, New South Wales, the Hay railway line, New South Wales and the Yanco-Griffith railway line, New South Wales. The train stays overnight at Griffith and the next day heads back to Goulburn and rejoins the Canberra Xplorer service on the next day at Goulburn to make the return leg to Sydney although on occasions when either train has run late the trains make the journey to Sydney by themselves. This train is usually a two car Xplorer.
Broken Hill -via Blue Mountains and Orange. Usually a 3 car set consisting of units which have additional protection to underfloor equipment and couplers due to hazards which are encountered on the line (such as kangaroos). Operates on Mondays heading to Broken Hill and heads back to Sydney the next day.
The government is planning to replace the Xplorer's. These trains are expected to start running in the early 2020's and will improve safety, comfort and reliability.[1]