I really need your help!

I am rated poor class on NSW Trains Wiki's page rating scale. I really need to be expanded! I am not a stub however.
I am copied directly from Wikipedia

You can help by rewriting me!
  Wondabyne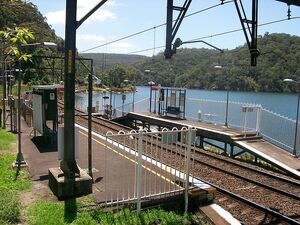 Wondabyne Railway Station
Newcastle Line
V - E - T - D
Wondabyne railway station is a railway station on the Newcastle and Central Coast Line in the CityRail network in New South Wales, Australia. The station is noted for its remoteness and having an extraordinarily short platform, which is less than a train carriage long. It is the only railway station in Australia which has no road access. The station is an optional stop, and any passenger wishing to alight at the station must inform the guard of their intention to do so, and then travel in the last carriage of the train and exit through the rear door only. When a passenger wishes to board a train at Wondabyne, they must wave to the driver. The platform on the Mullet Creek side connects to a public pontoon. Six km southwards downstream, Mullet Creek flows into the Hawkesbury River. It is the smallest railway station on the Central Coast and Newcastle Line.
Bushwalking Tracks
Edit
At the south end of the platform on the escarpment side is a track that climbs to the edge of the plateau above. At the edge a well formed fire trail continues on to Mount Kariong and then the Gosford suburb of Kariong. There is a bus service from Kariong to Gosford. Fifteen minutes along the trail from the edge of the escarpment, on the south side, a track commences that ends at the well known geological formation, Pindar Cave.
Platforms and services
Edit
The station receives roughly one service every hour each way in off-peak periods, which is usually a Central to Wyong service. It receives a few additional services during peak hours.