I am OK

This article is OK, but needs a fair bit of expanding according to NSW Trains Wiki's page rating scale.
  Wickham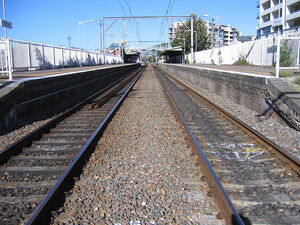 Wickham Railway Station
Newcastle Line
V - E - T - D
Hunter Line
V - E - T - D
Wickham railway station is a former railway station that was opened on 2 September 1936 and was located in Wickham, a suburb in the Newcastle area. The station was serviced by V set services to Central and Diesel railcar services to Maitland, Dungog/Scone. The station was closed in December 2014 and has now been replaced by Newcastle Interchange.
Platforms and Services
The station had two side platforms, only four carriages long. Passengers on longer trains were required to use the rear 4 cars. The station generally received two Hunter line services (usually to and from Telarah) each way per hour, one Morisset local service each way per hour and one Sydney service each way per hour. Additional services operated during peak hour.
Platform
Line
Stopping Pattern
Notes

Central Coast & Newcastle Line

local electric services and intercity electric services to Newcastle

Hunter Line

diesel rail-car services to Newcastle

Central Coast & Newcastle Line

local electric services to Morisset and intercity electric services Gosford, Hornsby and Central (via Strathfield)

Hunter Line

diesel rail-car services to Maitland, Telarah, Dungog, Muswellbrook and Scone
Map