I really need your help!

I am rated poor class on NSW Trains Wiki's page rating scale. I really need to be expanded! I am not a stub however.
  Warnervale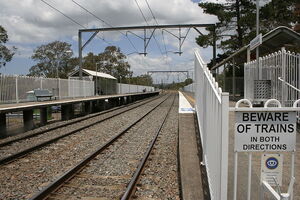 Warnervale Railway Station
Newcastle Line
V - E - T - D

Warrnervale railway station serves Warnervale on the Central Coast in NSW. It is part of the Newcastle & Central Coast Line and is served by Country Link trains to Sydney and Newcastle. it has two platforms, in a normal formation.
Platforms and services

Edit
North Warnervale Station
Edit
As the city of Warnervale has grown towards the north of the station, a second station known as Warnervale North, has been proposed as an idea, to serve a new city centre and transit hub in the Woongarrah area. Council plans where initially put on diplay in 2006, and in 2010 the state goverment said that in 2012 constuction will begin and that it is scheduled to be ready by 2016.