I really need your help!

I am rated poor class on NSW Trains Wiki's page rating scale. I really need to be expanded! I am not a stub however.
I am copied directly from Wikipedia

You can help by rewriting me!
  Teralba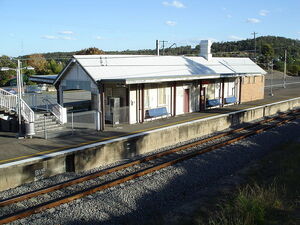 Teralba Station
Newcastle Line
V - E - T - D
Teralba is a railway station located near Newcastle, New South Wales, Australia on the Newcastle & Central Coast Line.The station has two platforms. The station is served by intercity trains to Sydney and local trains to Morisset.
Prior to rail electrification, Teralba station operated an island platform, the eastern side for coal transportation from the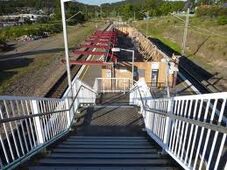 Pacific colliery, and some passenger services, to and from Newcastle. Freight and passenger services to Sydney used the other side of the island platform.Trains to Newcastle and points north went through the western platform.
Preparation for electrification included removal of the western platform and conversion of the island platform to allow trains to run both north and south. A Teralba landmark - the prominent signal box on top of the island platform,also disappeared, as part of the electrification program. Electrification of the northern line to Newcastle was completed in 1984
Platforms and services
Edit