I am a stub

You can help by expanding me.
I am copied directly from Wikipedia

You can help by rewriting me!
  Point Clare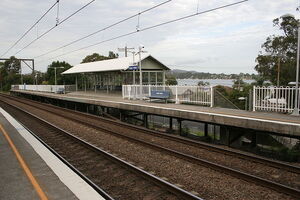 Point Clare Railway Station

Point Clare railway station is located in Point Clare on the Central Coast of New South Wales, Australia. The station is a side station with two short platforms which are four carriages long. The station is served hourly by intercity trains during the off peak. Two trains per hour serve Point Clare during peak periods. A tunnel runs beneath the platforms for easy access to either as well as a way to safely cross the tracks.
Platforms and services
Edit