I really need your help!

I am rated poor class on NSW Trains Wiki's page rating scale. I really need to be expanded! I am not a stub however.
I am copied directly from Wikipedia

You can help by rewriting me!
  Kotara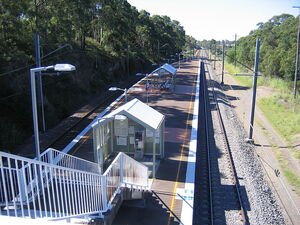 Kotara Railway Station
Newcastle Line
V - E - T - D
Kotara is a railway station located in Newcastle, New South Wales, Australia on the Newcastle & Central Coast Line. The station has two platforms and opened on 12 November 1924. The station is serviced primarily by local services which operate between Newcastle and Morisset, and also by intercity trains between Sydney and Newcastle at times when local services do not operate. Kotara station has very limited sheltered area. The station is not staffed at any time, as it does not have a ticket office. A ticket machine and notice boards can be found at the entrance to the station. The station itself has a relatively short platform, thus passengers on 8-car trains are asked to board the last 6 carriages (4-car trains are also used during off-peak hours and weekends which makes it possible for passengers alighting or boarding to utilise the entire 4-car set). Entrance to the station is via overhead stairs which cross both tracks and provide an overhead walkway for pedestriants to cross from one side of the rail tracks to the other. Westfield Kotara is about a 20 minute walk from the station.
Platforms and services
Edit