I am a stub

You can help by expanding me.
I am copied directly from Wikipedia

You can help by rewriting me!
  Koolewong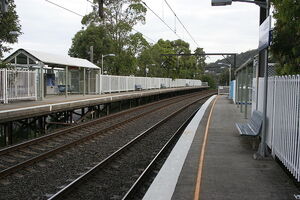 Koolewong Railway Station
Newcastle Line
V - E - T - D

Koolewong railway station is located on the Central Coast of New South Wales Australia serving the suburb of Koolewong. The Station has two short side platforms and a level crossing to the north of the station. Koolewong is mainly served by Sydney to Wyong services and occasionally by a Newcastle service. Passengers who use Koolewong must board or alight from the rear car only.
Platforms and services
Edit