I really need your help!

I am rated poor class on NSW Trains Wiki's page rating scale. I really need to be expanded! I am not a stub however.
I am copied directly from Wikipedia

You can help by rewriting me!
  Cockle Creek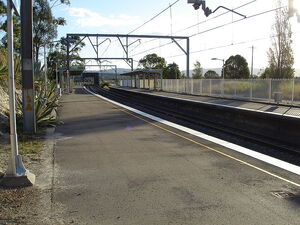 Cockle Creek Railway Station
Newcastle Line
V - E - T - D
Cockle Creek is a railway station located at Boolaroo, New South Wales, Australia, and south of Newcastle, on the Main North railway line. The station has two platforms. The station is served by intercity trains to Sydney and local trains to Morrisset of CityRail's Newcastle and Central Coast Line service. The privately-owned Caledonian Collieries Ltd., railway line to West Wallsend, Seahampton, Killingworth, Barnsley and the now vanished town of Fairley, joined the government line at Cockle Creek. This line carried mixed traffic, including passenger and freight trains, but was largely used for coal traffic until the last working mine, West Wallsend Extended Colliery at Killingworth was closed during the industry slump in 1962. An island platform at Cockle Creek railway station (today only one side serves the down main line) served this line and the remnants of the old bridge which carried it can still be seen, to the north of the present main-line steel bridge erected about 1950. In 1922, its stationmaster, Walter Skelton was elected as a member for Newcastle in the New South Wales Legislative Assembly for one term.
Platforms and services
Edit