Broadmeadow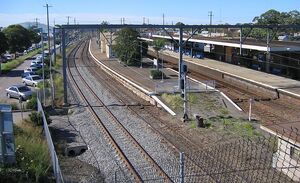 Broadmeadow Railway Station
Newcastle Line
V - E - T - D
CountryLink North Coast Railway Line
V - E - T - D
CountryLink North-Western Railway Line
V - E - T - D
Broadmeadow railway station serves the suburb of Broadmeadow located in Newcastle, New South Wales, Australia. The station opened on 15 August 1887 and has three platforms. Located on the NSW's Main Northern Line, the station is served by CityRail's Newcastle & Central Coast Line with intercity trains to Sydney and local trains to Morisset, plus CountryLink trains to the North Coast or Main North Lines. The Australian Rail Track Corporation's Broadmeadow Centralised Traffic Control centre for the northern half of the state (including the standard gauge line to Acacia Ridge near Brisbane, Queensland) is located just south of the station, as is RailCorp's Broadmeadow signal box which controls the area Broadmeadow to Eraring with a road overpass in between the two train control buildings and the station.
Located not far from the station is the UGL Broadmeadow site of A. Goninan & Co, the company responsible for designing and manufacturing several Sydney Trains fleets, including the S Sets, K Sets, C Sets and Tangara T Sets. UGL also manufactured the OSCAR H Sets.
Platforms
Edit
Broadmeadow Station underwent a transport access program. This included new lifts, canopies, wayfinding signage and CCTV camera surveillance. The upgrade was completed in June 2017.