I am OK

This article is OK, but needs a fair bit of expanding according to NSW Trains Wiki's page rating scale.
I am copied directly from Wikipedia

You can help by rewriting me!
  Berowra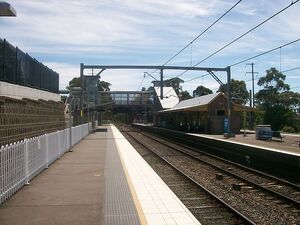 Berowra Railway Station
Newcastle Line
V - E - T - D

Berowra railway station is a station on the Main North railway line in Berowra, New South Wales, and is the northern suburban terminus of the Sydney CityRail network. The station serves the town of Berowra. It consists of three platforms with lift and stair access from over-bridge at the northern end of the station. Berowra is served by suburban trains of the North Shore line and the 'intercity' Newcastle & Central Coast line.
The station is staffed on weekdays from 5am to 9pm and weekends and public holidays from 6am to 9pm.[1]
Berowra station opened in 1887 with the opening of the railway line. Initially 2 platforms in an island configuration were provided at the station. On Monday 28 August 2006 a third platform (platform 3) opened as part of the CityRail Clearways Project, to allow suburban trains to terminate clear of the running lines. Trains now terminate on the middle platform (number 2), allowing Newcastle & Central Coast trains to overtake any terminating trains standing in the station. The new platform was built to accommodate a full 8 car intercity train length, whereas the existing 2 platforms can accommodate only 7 intercity (V set) car lengths. The upgrade also included provision of Easy Access facilities, a new over-rail bridge for general station access and additional wet weather protection. On Monday 22 January 2007 Berowra station was almost engulfed as bushfires swept the Ku-ring-gai Chase National Park. Efforts from firefighters saved the station and a train which had terminated there. In 2010, the station underwent another upgrade, including improvements such as a new commuter car park, security lighting and CCTV surveillance. The upgrade commenced in March 2010 and was completed by December of the same year.[2]
Platforms and services
Edit
The station is served by three trains per hour south and one per hour north, with additional trains during weekday peak hours.
Platform
Line
Stopping Pattern
Notes

Central Coast & Newcastle Line

intercity services to Hornsby and Central (i) via Strathfield
peak hour intercity services to Hornsby and Central via Chatswood.
weekdays only

Central Coast & Newcastle Line

intercity services to Gosford, Wyong and Newcastle
weekends and public holidays only
terminating services, returning to all stations and limited stops services to Hornsby and Central via Chatswood

Central Coast & Newcastle Line

intercity services to Gosford, Wyong and Newcastle
weekdays only
peak hour intercity services to Gosford and Wyong
weekdays only