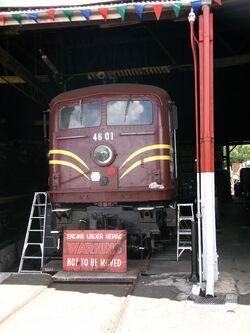 The New South Wales 46 class are a class of mainline electric locomotive introduced onto the NSW rail system from 1956 under New South Wales Government Railways. Metropolitan-Vickers and its partner Beyer, Peacock and Company obtained the contract to build 40 of these locomotives.
The locomotives were built at Bowesfield Works, Stockton-on-Tees, England, with electrical equipment supplied by Metropolitan-Vickers from its Trafford Park and Sheffield plants. Metropolitan-Vickers drew on experience gained from its earlier class EM1 and EM2 electric locomotives, which were used on the Woodhead Line in the UK and in The Netherlands. These electric locomotives were originally purchased as part of the Blue Mountains electrification works, and spent their life hauling coal, freight and passenger carriages under the wires. The 46 class locomotives were often seen double or triple heading coal and freight services. The class 46 was the most powerful locomotive in Australia for many years, with a one hour rating of 3,780 horsepower (2,820 kW) and ability to deliver more than that for short periods. They proved to be very reliable and were generally considered superior to the much newer and even more powerful Comeng-Mitsubishi 85 class and 86 class electric locomotives. Their build quality and durability was such that 38 of the original 40 remained on the books in 1990.
Accidents
Edit
The 46 class locomotives were involved in a number of serious incidents.
On 16 July 1965, a 44-vehicle goods train hauled by 4620 ran away for 4 miles (6.4 km), careering downhill at speeds of up to 95 miles per hour (153 km/h), before a spectacular derailment at Wentworth Falls. Investigations revealed that whilst the air brake train pipe was connected from the locomotive to the train, the associated isolating cock was left closed. This rendered the train brakes inoperative.
1956 under New South Wales Government Railways. Metropolitan-Vickers and its partner Beyer, Peacock and Company obtained the contract to build 40 of these locomotives.
On 16 January 1976, a goods train hauled by 4623 collided with the rear of a stationary double deck interurban electric multiple unit (EMU) train at Glenbrook, NSW, killing one passenger in the rear car of the EMU. This accident was caused by a wrong-side signal failure. The automatic signal in rear of the EMU exhibited "caution" when it should have been at "danger", thereby admitting the following goods train into the occupied signal section.
A 46 was also involved in the Granville rail disaster
New South Wales Rail Rollingstock
10 class,11 class,12 class,13 class,14 class,15 class,16 class,17 class,18 class,19 class,20 class,21 class,23 class,24 class,25 class,26 class,27 class,28 class,29 class,30 class,(3112)30T class,32 class ,(3237)(3265)34 class,35 class ,(3526)36 class,(3642)38 class,(3801)(3820)(3830)D50 class,D53 class,D55 class,D57 class,D58 class,D59 class,(5917)AD60 class,
---
---
---
---
---
---
---