I am OK

This article is OK, but needs a fair bit of expanding according to NSW Trains Wiki's page rating scale.
I am copied directly from Wikipedia

You can help by rewriting me!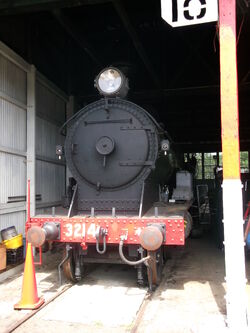 When the new Chief Commissioner, E.M.G. Eddy, took up duty in 1888, he was anxious to have additional locomotives manufactured within the Colony, and the Government sought the formation of a manufacturing company in N.S.W. by interested parties. When this failed, designs were prepared prior to inviting tenders in England.
Beyer, Peacock and Company was finally selected to provide the new locomotives. Thus was born the P(6)-class (re-classified as C32-class in 1924) 4-6-0s, one of the system's most outstanding locomotive types.
The first batch of 50 locomotives was delivered by Beyer, Peacock between February 1892 and July 1893. They became known as the Manchester Engines, and were originally fitted with 6-wheel tenders. Whilst the builders had not previously built locomotives of such heavy weight, they were an immediate success, with far fewer and far less serious teething troubles than most classes first entering service. The Riverina Express connection from Junee to NarranderaAt the request of the Railway Commissioners, the builders altered the last two engines of the first batch to operate as compounds, but these did not prove satisfactory and during 1901 were converted to 2-cylinder simples. The particular compound arrangement was never used in another locomotive, before or since.
When first introduced, the class was assigned to the Southern and Northern Mail and express trains. Following the strengthening of the Wagga Wagga Viaduct in 1901, they worked the full length of the line from Sydney to Albury, the express covering the 621km in 12 hours and 35 minutes, including 14 stops.
Over the 19 years after their introduction, the class was enlarged to a total of 191 locomotives. After the initial 50 they were supplied with bogie tenders, and many of the originals were likewise subsequently supplied with bogie tenders; however, a number of the class kept the shorter tenders to enable them to be turned on the 50-foot (15.24 m) turntables at certain locations, including Hornsby, Campbelltown and Maitland.
New South Wales Rail Rollingstock
10 class,11 class,12 class,13 class,14 class,15 class,16 class,17 class,18 class,19 class,20 class,21 class,23 class,24 class,25 class,26 class,27 class,28 class,29 class,30 class,(3112)30T class,32 class ,(3237)(3265)34 class,35 class ,(3526)36 class,(3642)38 class,(3801)(3820)(3830)D50 class,D53 class,D55 class,D57 class,D58 class,D59 class,(5917)AD60 class,
---
---
---
---
---
---
---